Let's go to Argentina, but what do I know about the country? A huge country, a lot of meat, now they have winter instead of summer, I heard about mate and tango and the time should be different there. And what else?
The departure begins smoothly. My two bags are no problem and I can fly to Frankfurt earlier. Great! Time passes, the flight is cancelled, my original flight too, but now I'm running short of connections in Frankfurt. And I don't have a seat yet either. So I sprinted from gate to gate in Frankfurt, the airport is so huge! But it was worth it and there was another surprise: an upgrade to Business Class. This is bearable for the next 13 hours.
Arrived in Buenos Aires the luggage is missing, it got stuck somewhere and should follow tomorrow. Well, I always wanted to travel spartan. Bruno picks me up from the airport and I ask stupidly: "Your German is good – why?" "I am German, my parents have emigrated". Oh yes, emigrating or immigrating is also a topic for me for the next weeks. And then follows the extremely nice welcome of the family. Peter shows me workshop, house, the future and current construction sites and ideas on the property. I get to know my new 15 colleagues for the next four weeks and don't immediately keep a name. And then it all starts: What can I help, where is, when is and how best? The edge of the layout has priority and the Rio district of Lapa is to move forward.
In the evening we go to the big supermarket, because the house where we Wunderlandians will live is not yet furnished. So cups, plates, cutlery, towels, bed linen, blankets and all the stuff that you only miss when you no longer have it, goes into the shopping basket. I thought I was very smart, because there is a sleeping bag in my pocket, but without it it would have been a cold night with only two degrees.
The first night is short, unusual noises everywhere and dogs bark all night long. At 8 am I find myself standing in the workshop – German overpunctuality? No, the time difference does that, I've been rolling from one side to the other since 5 am. My colleagues are gradually coming and starting work, good music is playing in the background and I get into the flow well. Jimmy and I start building the edge of the layout. Just like in Wunderland, that means measuring a lot, dragging records and then sawing them right. The machines are different than in Hamburg and so I also have to rethink and work differently as usual. We communicate in English with scraps of words in Spanish and German and both know at least mostly what is meant. Sometimes there are misunderstandings, but they are more funny than annoying. In the small breaks, we drink mate and coffee and somebody always has cookies with them. My colleagues talk about the weekend (I guess) and people laugh a lot. Once again I think: It's a pity that I didn't learn more languages, that would make the beginning easier and I could laugh along. For lunch Gabby fetches me from the workshop and I have lunch with the Martinéz family. Mother Zulema cooked for everyone. She is the most important employee anyway, because without her good food nobody could work here.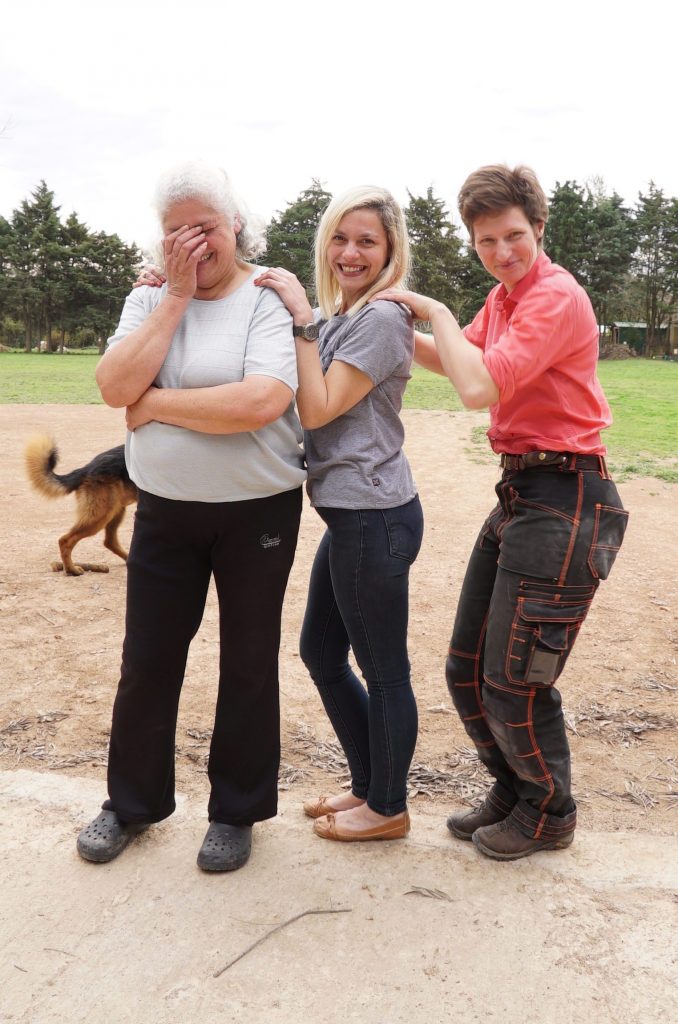 The first days go by, I find my rhythm: in the morning it's time to work on the computer and when Jimmy arrives the practical part starts. The edge of the layout is growing, from time to time we have to move people who work in our way, but everyone is relaxed.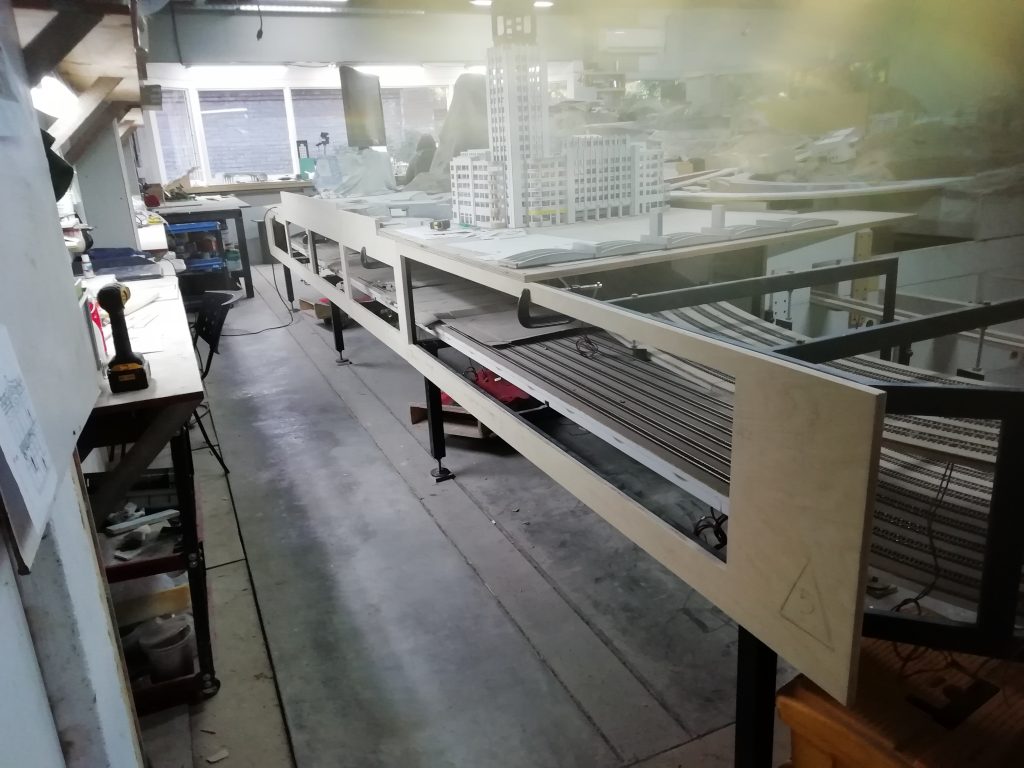 There are still some things to do for our house and so I get to know the bed shops, shopping malls and supermarkets in the area. Gabby is a great help to me, because I often can't get any further without knowledge of Spanish. On Saturday every Argentinean feels like taking a trip to the shopping mile and somehow we got caught in this swirl. Note to myself: Never go shopping on a Saturday! This realization will be Gabbys and my running gag and we will be nevertheless again laughing in the swirl.
In the second week a surprise is waiting for me: "Judith, can you be in the workshop on Wednesday morning at 5:30? There's a press conference at Miniatur Wunderland with a live video call to our workshop." "Well, I guess I bought a pig in a poke again." Everyone was excited, the workshop was cleaned, Copacabana houses were positioned, hair was brushed, beards combed and the coffee machine started. For me it was strange to hear the voices of the Wunderlandians and to see the Wunderland on screen. The press conference was a success on both sides and finally the happy news that we are building South America together with the wonderful Martinéz family is published.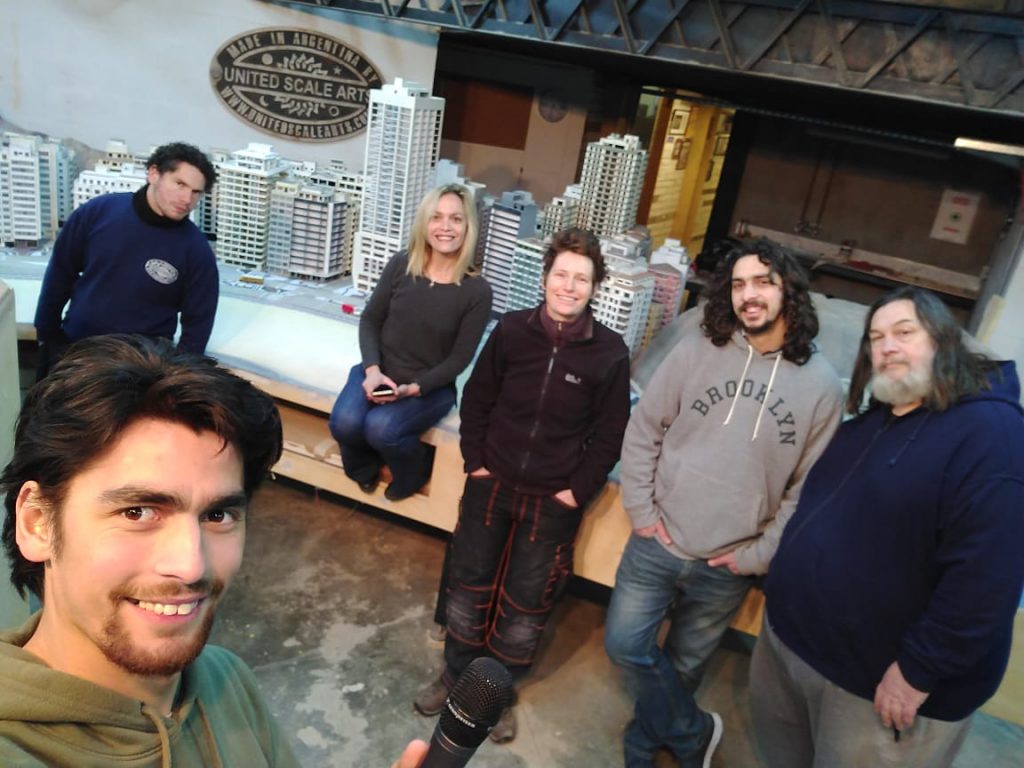 Time flies and already two weeks have passed when my colleague Michel arrives. We want to go on an trip together to get to know the country and its people better. As soon as he has landed from Germany, we are back at the airport to fly to Salta. There we rented a car to drive Route 68 and Route 40 to Mendoza. About 1.300 km past Cafayate, Belen, Famatina and San Juan. We have not booked any accommodations and we will see where we decide to stay spontaneously.
The car has insurance cover for damage to glass, tyres and underbody. I didn't know in Germany why this was listed extra. But after the first kilometers I know for sure. The roads are mostly good, but as soon as you leave them on the side strip, there is gravel or sand road with partial craters, in which you don't want to sink. Driving speed is 40 km/h in towns and 80 km/h on country roads, rarely someone is faster and driving is comfortable. I didn't understand until the end who had right of way. The newer car in before the old rust bucket, left yields to right, main road before side road, the fat car in before the small one, or everything the other way round? Except for buses. You make room for them, especially as pedestrians. Anyway, everyone drives relaxed, no honking of the horn and at some point you push yourself in between and the journey continues.
Our first overnight stay is in the backpacker in Cafayate after passing the colorful rocks at Quebrada Colorado at the beginning of the sunset. The colors are in constant motion and you could watch and photograph for days. At Los Medanos, the sand dunes, the scenery changes and you have the impression that the sea is not far anymore. That was really very impressive. In the evening we go for a drink on the square market place, which can be found in every village. Michel had a beer and I had homemade soda. We were asked if we would like to have a glass or a bottle. And so we both sit blessed and happy in front of our small drinks, each 1 litre. Things are bigger in Argentina. The day was sunny and warmer than in Pilar, but now it gets much cooler. In the morning we have the best coffee from Jorginia. We think about driving back to Quebrada Colorado to see even more colours, but we are not sure how we can cope with the rest of the trip. So we decided to continue our route!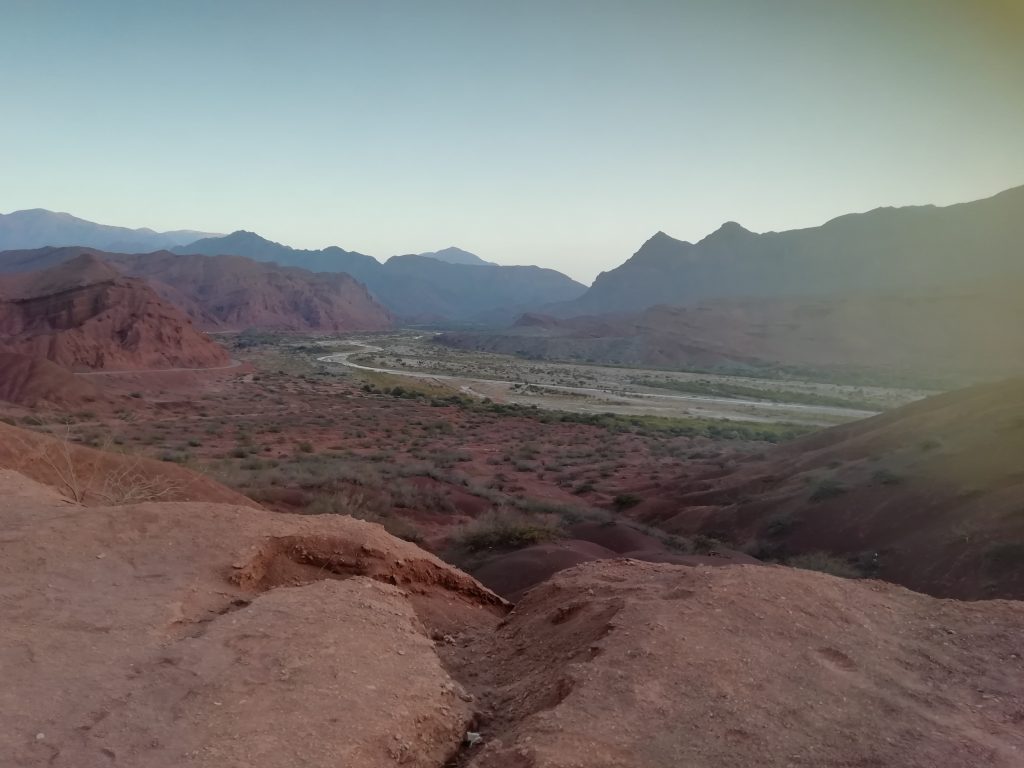 The colours are still changing, sometimes the mountains are far away, then close again. The car purrs, we listen to Argentinian radio, eat biscuits , drink Coke and feel like on vacation. From time to time we turn off to look at something or stop for a photo. At noon we stop at a snack bar and although we don't speak the same language and guess more than we understand, we have something suitable on our plates.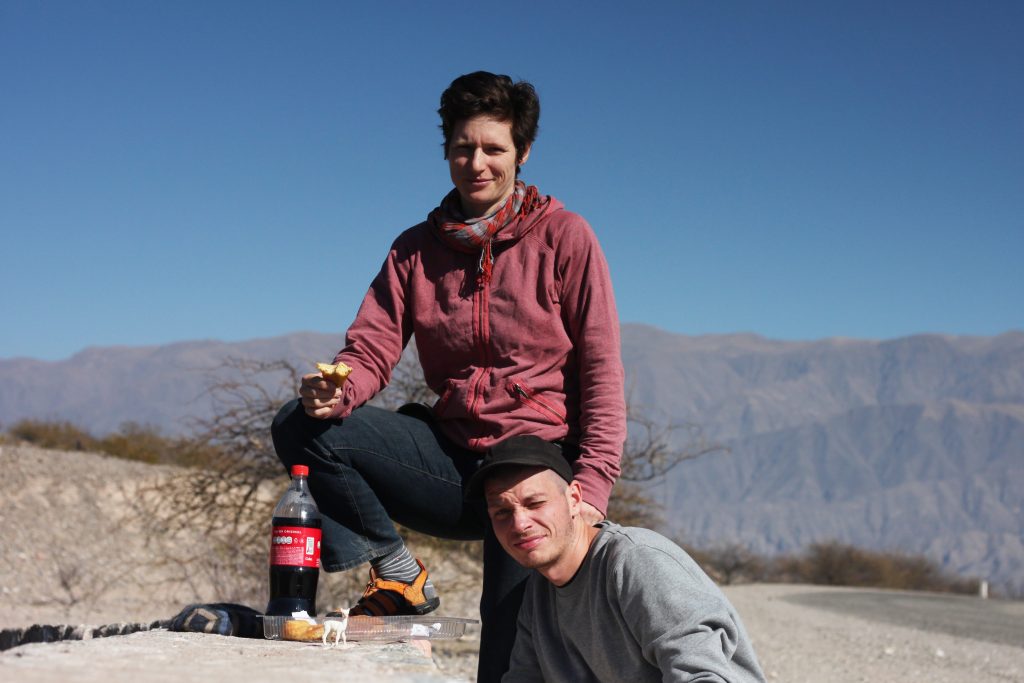 We actually wanted to spend the night on a finca, but there is nobody at home. Then we try a private accommodation, but it doesn't work as well and so we sleep in a Hosteria. I would describe it as a mixture of roadhouse and youth hostel. Fresh and lively we continue our way south. The landscape becomes flatter, often you can see the road for miles. We see sheep, goats and donkeys, wild or with a lot of space to run is not clear. They are also not impressed by the car. Even dogs think the road belongs to them and if you don't want to overrun them, it is on you to drive around them. Since we are in a wine region, we also want to spend the night at a winery. There are no cars and no guests to see, but they are said to be fully booked. Do we look too wild? Well, we have no choice but to drive on to Mendoza if we don't want to sleep in the car. Much too early we arrive at our destination, we were in such a comfortable rush!
Already when driving into the city I wish myself going back to the countryside – I liked it way better. It felt more Argentinean and more authentic. Here there are tourists again, we can communicate in English and the hotel could also be in Hamburg. And of course there are many cars and people. The next day we consider whether we go further south, east or west. But we definitely don't want to stay in the city. We have a car for two more days and there is still a lot to see. We decide to drive to the mountains as close to the Chilean border as possible. Our first stop is the Embalse Portrerillos lake. A mountain lake with a lot of water sports.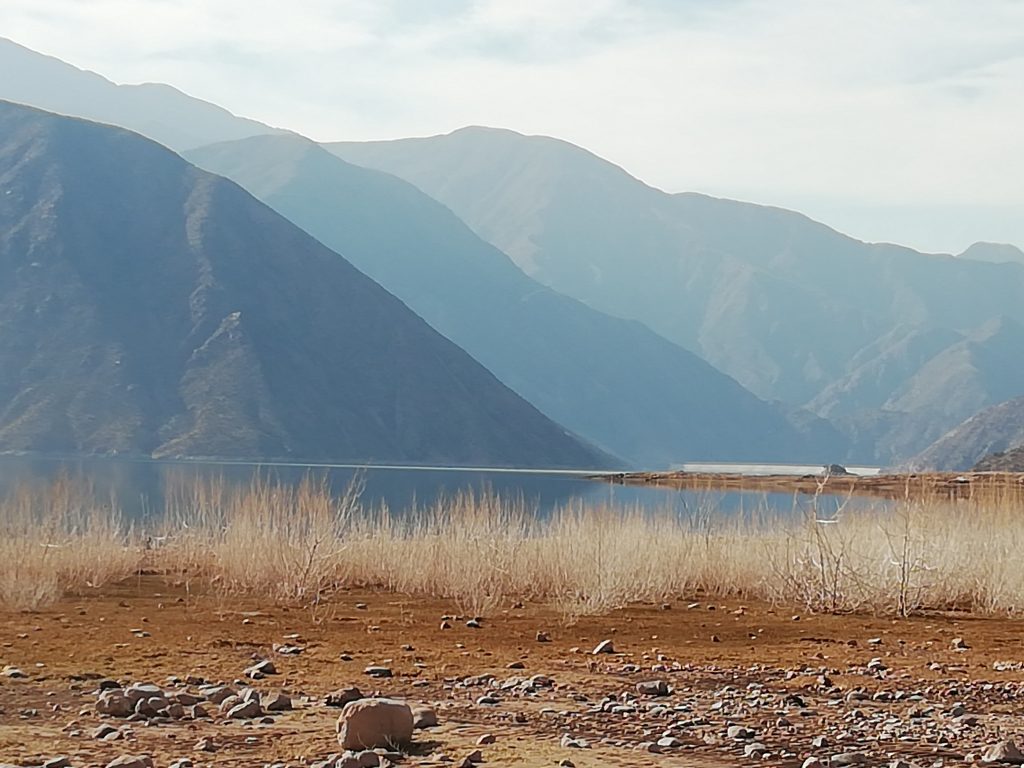 We're going on to Uspallata. For lunch we have burgers and empanadas and we already discover a nice little hotel for the night. But first we want to go on! It continuously gets higher and with coming closer to Chile it also gets constantly cooler. At first I only see snow-covered peaks, then snow-covered mountains and two kilometres before the border it actually snows. The next day we drive down the mountains again to the city of Mendoza, where we still have time to explore it first by car and then by foot. We end the last evening sitting in the park.
Back in the workshop I work with Jimmy at Cardeal Camara Square. First we carve the stones into the plaster and then we try to colour it. The carving in an uncomfortable position on the plate leads to tension in the neck area. In simple words: They must be crazy and so must I. Virginia and Peter help us with the colour design after we didn't like our first try.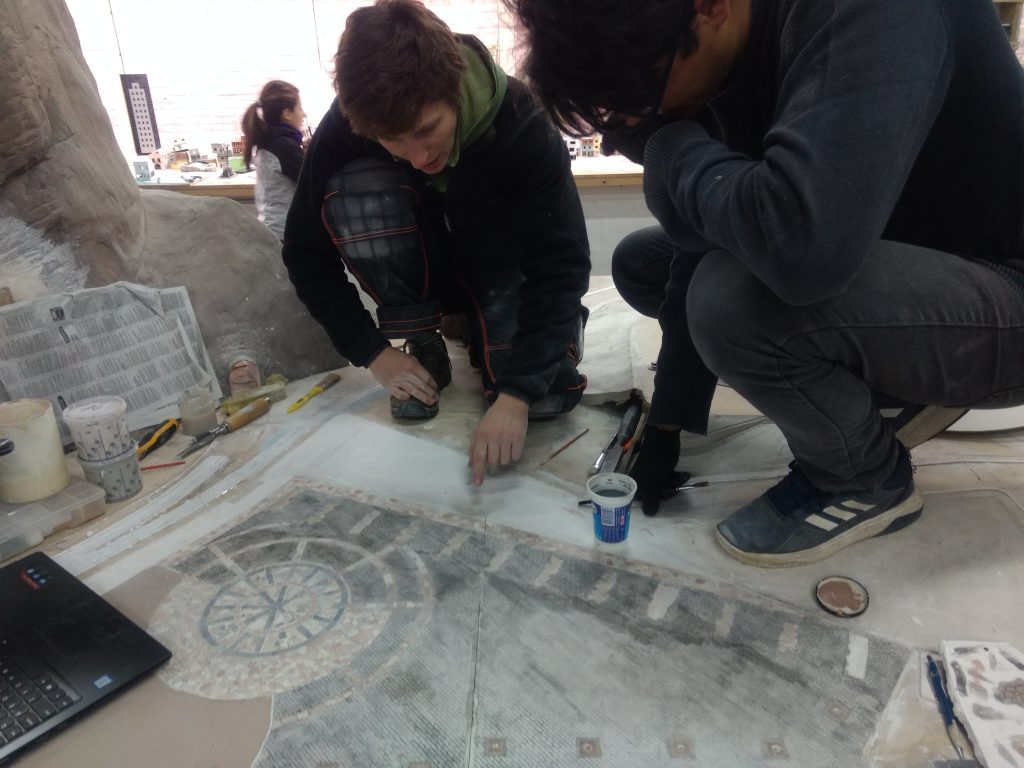 Then we continue with the footpaths for the Lapa section with a very elaborate pattern that has to be adapted. The kerbstones are cut from poly plates to 3 mm strips and then the individual stones are notched with a knife or a carving iron. In the next step we must prime them with paint to obtain a structure, paint in the desired color, stick in position and age them. The edge of the layout is provided with windows, which will later serve as access onto the layout. On the last evening we went for a farewell dinner with tapas and drinks. Sunday evening is the flight back to Germany, the last hours I spend in the garden – wrapped in a blanket, drinking tea and staring into the landscape. It was so beautiful to be here!
Summing up the impressions of my trip: Once again I found it very exciting to see how you can work and live differently. A big thank you goes out to the Martinéz family, who have always supported and accompanied me. I would like to thank my Argentine colleagues for their friendliness, even if I have poached their tools or disassembled the model. And I would also like to thank Miniatur Wunderland for this opportunity. There is definitely a lot to tell when you travel!